Xavier Vignon (Consultant Winemaker, Rhône Valley)
Xavier Vignon is one of the top consultant winemakers in the south of France. He used to be a master Champagne blender (so he knows a thing or two about constructing wines) but now lives in Les Barroux in the Rhône Valley from where he visits around 300 estates to advise them on viticulture and vinification. At the end of each year, as he hands over his bill, he offers some of his employers to exchange it for barrels to make his own blends - well, that's more or less how it works. His preferred style is for intense flavours and big structures so, inevitably, he keeps the best wines for bottling under his own stylish label. They are superb wines which are earning him the recognition they well deserve in France - and they are beginning to become well-known in the UK. More...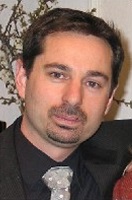 Xavier producers a wide range of wines from the south of France. From the Rhône he offers a full range from a full and gutsy Côtes du Rhône to his top wine, a Châteauneuf called "Anonyme" from a number of his top clients.
Xavier makes some of the most distinctive wines in the Rhône Valley. One of his earliest examples was a blend from at least ten varieties from two distinct regions (the Rhône and the Languedoc) - and many more sub-regions - but it comprised wines from more than one vintage - as already mentioned, Xavier is a master blender! As such "Xavier Rouge" (or "Debut") could only be classed as a non-vintage wine. Oak-aged and very powerful, it was an astonishingly good value wine, sadly long gone.
However, Xavier has gone on to create many new wines since then including a multi-vintage blend of the top parcels of "Anonyme" called "Reserve VII IX X" (there's an obvious clue in the letters!) and "Sacrilege", a blend of Cote Rotie Syrah and Chateauneuf Grenache which landed him in trouble when he labelled it Cotes du Rhone - it is not permitted to downgrade Chateauneuf except to Vin de France - so this wine is now made using Grenache from Gigondas and has been renamed "SM" after Septrionale (the French name for the northern Rhône) and Meridionale (southern Rhône).
More recently, Xavier has been working on a special limited production range called the Arcane Series. There will be 20 wines in this range, all labelled with Tarot images. Early bottlings included "Le Soleil", "La Lune" and "Le Diable". They are exquisite examples of specific varieties and/or terroirs.
You must be aged 18 or over to purchase wine.
© The Big Red Wine Company, Barton Coach House, The Street, Barton Mills, Suffolk IP28 6AA, UK. Tel +44 (0) 1638 510803

Site design by GOL