Châteauneuf-du-Pape
We work with Beaucastel Capucine Raymond Usseglio Xavier Vignon
The vineyards of Châteauneuf-du-Pape were originally planted by the Knights Templar. In the fourteenth century, when the Papacy was established in Avignon, Pope Clement V built a summer residence in the village about 10 miles upstream. His (and his successors') love of the local wines encouraged the expansion of the vineyards and gave the village its name.
One of the most famous appellations in France – indeed, it is the birthplace of the appellation contrôlée system – Châteauneuf-du-Pape produces many of the finest wines in the southern Rhône. Whilst some excellent white wines are made in the appellation, it is for its world class reds that Châteauneuf is so renowned. With 13 different grape varieties permitted, there is potential for an enormous range of styles. However, it is the different approaches to wine-making that determine the general style of the wines.
Recently, some producers have introduced carbonic maceration (as in Beaujolais) for their red wines to make easy-going, appealing, jammy wines for early consumption. The more traditional approach produces wines with a vast array of concentrated smells and flavours including a variety of hedgerow and stoned fruits, raspberry jam and roasted herbs (known as the smell of garrigues, the earthy, herby aroma of the Provençal scrublands). These wines tend to be chewy with high glycerin and alcohol levels and good tannic structures and are capable of considerable longevity, particularly in the classic Châteauneuf vintages. Indeed, it is not so many years ago that old-vine Châteauneuf and Gigondas were added to the all-too-often dilute wines of the negociants of Burgundy which were then sold as luxury Pinot Noir wines.
Vineyards cover almost all of the commune of Châteauneuf-du-Pape itself as well as some parts of neighbouring communes Bédarrides, Courthézon, Orange and Sorgues which have similar soils made up (in the main) of large round quartz stones (the so-called galets) mixed with sandy red clay. The stones store the heat from the sun and release it throughout the night which with the Mistral wind contributes to this being one of the driest parts of the Rhône Valley.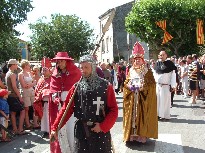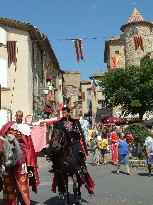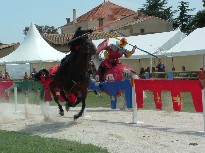 Every year, on the first weekend of August, Châteauneuf celebrates the Fête de la Veraison. Visitors pour into the village to taste wines and enjoy the spectacle of medieval jousting and processions.
So, what are the thirteen varieties?
For red wines:
For white wines:
1. Grenache Noir
1. Grenache Blanc
2. Mourvèdre
2. Clairette
3. Syrah
3. Bourboulenc
4. Cinsault
4. Roussanne
5. Vaccarèse
5. Picpoul Blanc
6. Counoise
6. Picardin
7. Muscardin
8. Terret Noir
Note: red and white clones of Grenache and Picpoul are counted only once.
9. Picpoul Noir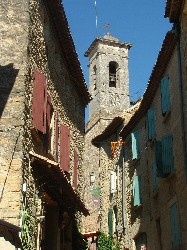 Generally, about 65-70% of a wine comes from Grenache with around 15% each of Syrah and Mourvèdre which add colour, black fruit characters and complexity (Syrah) and structure, definition and aromatic complexity (Mourvèdre) to the Grenache base.
Recent great vintages include the trio of 1988, 1989 and 1990 with some excellent wines produced in 1992 and 1993 and two more stunning vintages in 1994 and 1995. 1996 and 1997 both produced some excellent wines with ripe fruit and low acidity, suitable for earlier drinking. 1998 is unquestionably the best vintage since 1990 although there will certainly be price increases starting at the cellar door. The wines from the 1999 vintage are of a similar quality level with many estates surpassing their efforts of the previous year. 2000 was a stupendous vintage. Early signs are that 2001 could be another excellent year. After the terrible floods just prior to the harvest, 2002 was, for many, a year to forget although some decent wines were made. The heatwave of 2003 followed bringing a mixed bag (case?) with some formidable wines but too many that had unripe tannins that will never be resolved. 2004 saw a return to form, an excellent vintage but this was surpassed by 2005. 2006 was similar in many ways to 2004. 2007 was touted as the vintage of the century (already?) because of the extremely long growing season and superb wines.
Since then there have been few off vintages: 2008 and 2014 are generally best avoided unless you have tasted the wines. Beaucastel made a lovely wine in both vintages but we were underwhelmed in both these years by wines from many highly respected estates. Otherwise, the best vintages are 2009 (powerful), 2010 (wonderfully balanced with fabulous acidity), 2015 (ageworthy), 2016 (superb Grenache) and 2017 and 2018 both look extremely promising as are 2019 and 2020. Always remember, however, that it is the producer that is key, more so than the vintage (this applies to any top notch wine).
Today there are around 3,150 hectares (7,875 acres) under cultivation with basic yields around 35hl/ha. If it all made it into bottle, that would make over 140 million bottles of Châteauneuf-du-Pape each year. Naturally, it cannot be assumed that they will all be good. As with any other wine making region, the producer is key.
Useful tip: when buying Châteauneuf-du-Pape wines, ensure that the bottle is embossed with either the crossed keys or the new bishop's mitre design and also that it has been bottled at the estate (mis en bouteille au domaine, for example). Negoçiant (and supermarket own-brand) wines can be a terrible waste of money! Another tip: many Châteauneuf-du-Pape estates own land just outside the appellation borders which is designated Cotes du Rhone. The wines are often mini-Châteauneuf, made in a similar style to their more illustrious neighbour and, as such, can represent fantastic value for money.
You must be aged 18 or over to purchase wine.
© The Big Red Wine Company, Barton Coach House, The Street, Barton Mills, Suffolk IP28 6AA, UK. Tel +44 (0) 1638 510803

Site design by GOL