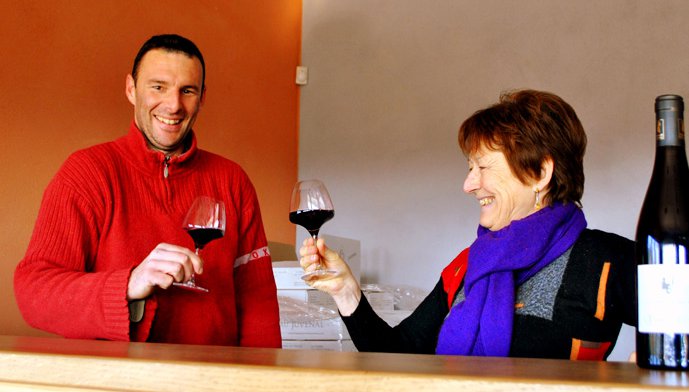 The story of Chateau Juvenal is one of simple elegance (rather like the wines). Anne-Marie and Bernard Forestier bought the beautiful chateau at the foot of Graveyron near the Dentelles du Montmirail in 2001 and set about restoring the property. They had been selling their grapes to the cave cooperative at nearby Beaumes-de-Venise as had Sebastian Alban, whose family vineyards are adjacent to those of Juvenal. In 2011, the two families decided to go it alone (or, rather, together) and, under the direction of Philippe Cambie (along with Xavier Vignon, one of the most respected consultants in the region) produced their first vintage to high acclaim from new cellars at Juvenal.
2012 is therefore only their second year of production and the first year with full organic certification. We were directed to have a look at the wines by a wine-enthusiast friend living in nearby Mazan and visited the estate twice as tourists before contacting Anne-Marie to arrange a meeting with all three members of the syndicate and what lovely people they proved to be; a truly joyful meeting.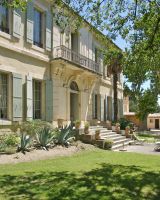 Anne-Marie and Bernard are the business brains behind the estate whilst Sebastian works the 35 hectares of vines and, given that all great wines are made in the vineyard, he is clearly doing a great job. The wines are impressive with more in common with the Northern Rhone and Burgundy than other wines from the region.
For now we are offering the two red wines: Ribes du Vallat, meaning 'hill of the ditch', a Grenache-based wine that luxuriates in the mouth and 'Terre du Petit Homme' from parcels which, according to legend, were visited by a little man and his small black, truffle-hunting dog
Click for more about: Southern Rhone Ventoux Chateau Juvenal
---
£9.90 (Bottle)
£36.00 (6 btls in bond)

---
£11.50 (Bottle)
£42.00 (6 btls in bond)

---
£12.60 (Bottle)
£48.00 (6 btls in bond)

---
£14.50 (Bottle)
£57.00 (6 btls in bond)

---
£28.00 (Bottle)
£126.00 (6 btls in bond)

---