Château de Beaucastel, Châteauneuf-du-Pape
"Chateau de Beaucastel has become the leading estate at Chateuneuf-du-Pape and is now in a class of its own"
(John Livingstone-Learmonth, The Wines of the Rhone, Faber & Faber)
Château de Beaucastel, arguably, the best estate in Châteauneuf-du-Pape, is owned by François and Jean-Pierre Perrin. More...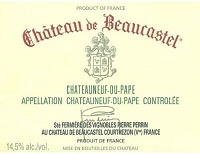 Beaucastel is certainly the longest-lived wine from the whole of the Southern Rhône, ageing well for 20 or more years in a top vintage. However, it is atypical for the appellation. Of all the estates in the region, Beaucastel is one of only three to plant and vinify all thirteen grape varieties permitted by the Châteauneuf du Pape appellation regulations and includes a whopping 30-35% Mourvèdre in its red wine, matching the contribution from Grenache in the final blend. In great years, the Perrins produce a massively concentrated ultra-ageworthy cuvee, "Homage à Jacques Perrin" in very small quantities.
The family also owns a large Côtes du Rhône estate, also farmed organically, known as Coudoulet de Beaucastel,one of the very best, having more in common with very good Châteauneuf than with other Côtes du Rhône wines. This wine has much in common with Beaucastel, in particular its comparitively high Mourvèdre content but, whereas the grand vin is at its best after a minimum of 15-20 years, Coudoulet is a wine to approach from a much younger age - for us it is a 5-10 year wine.
Important for some consumers is the fact that these wines are organically produced (they have full Ecocert status from the 2001 vintage although the bottles do not bear the logo).
You must be aged 18 or over to purchase wine.
© The Big Red Wine Company, Barton Coach House, The Street, Barton Mills, Suffolk IP28 6AA, UK. Tel +44 (0) 1638 510803

Site design by GOL