Crissante Alessandria, La Morra (Piedmont)
Crissante Alessandria began making Barolo in 1958 from his home in the Roggeri sector in Santa Maria di La Morra. Originally, the wines from the crus of Roggeri, Capalot and San Biagio were blended and aged in Slavonian oak barrels of 25 quintals. Over the years the company grew, new vineyards were bought in the best locations around La Morra and the Alessandria family started to produce differentiated Barolo Cru Roggeri and Capalot, at the same time selling the old barrels and switching to smaller barriques. More...

£30.00
(Bottle)
£138.00
(6 btls in bond)
2006 Crissante Alessandria Barolo 'Roggeri'
Classic, rugged Barolo with plenty of tannic grip.
Decanter Award
more details...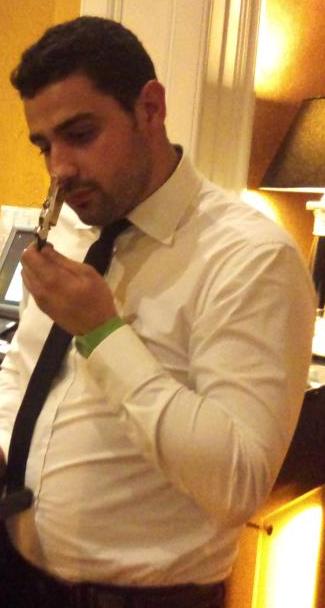 The family now owns around 5 hectares producing only 30,000 bottles, managed by Crissante's children, Michele (business) and Roberto (cellar), and, increasingly by his grandson Alberto. Apart from a decent Dolcetto, the range comprises a stunning Barbera d'Asti (it used to be designated Monferrato), "Rugé", and its Barolo production with vineyard holdings in Roggeri, Capalot and, recently, Galina. Wines are aged in a mixture of botti di legno (large wooden barrels) with around 30% in smaller French barrels. Oak is rarely evident on palate, however, lending itself more to the ageing and structure of the wines.
In 1989, Michele, convinced of the great potential of Barbera grape, acquired a historical vineyard planted in 1942, from which he gets very low yields of exceptional quality. The wine, called "Ruge", is rated by experts as one of the best made from Barbera and, with production less than 1500 bottles a year, in 1999 another vineyard, planted in 1920 (a rarity), was acquired and the production of Ruge got to the current 4500-6000 bottles per year.
Alberto was coming over to London with Enrico Nada and Fabrizio Battaglino for a dinner at the IOD and sent over some samples for us to try before hand. The first cork popped was from a bottle of "Rugé" which impressed us as probably the best Barbera we have tasted and, surely, one of the best being made. It is aged in small French barrels, half of which are renewed each year. "Rugé" means red; the wine is so-named because the family is based in Roggeri (Piemontese for "Rugé"). The vineyard, which was purchased in 1989, is surprisingly densely planted considering the vines are between 50- and 80-years-old.
I waited until I had met Alberto a week or so later before trying any of the other wines. He joined us at the more informal Piedmont dinner at the Lido Café the night before the IOD event so we had a chance to get to know each other then. The following night, at the IOD, I had my first proper experience of the wines all together. What a great tasting that was!
The Galina is quite modern in style and generally approachable at quite a young age although it will last 15-20 years at least in most vintages. By way of contrast, the Roggeri wines are, typically for this sector, more tannic and need to be put away for around 15-20 years before being broached. How long they will last after that is anyone's guess.
See also: Piedmont

You must be aged 18 or over to purchase wine.
© The Big Red Wine Company, Barton Coach House, The Street, Barton Mills, Suffolk IP28 6AA, UK. Tel +44 (0) 1638 510803

Site design by GOL