Château de Salles (Armagnac)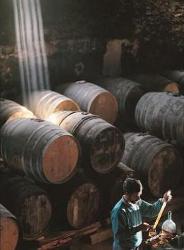 Château de Salles, a 30 hectare vineyard owned by Benoit Hébert (pictured, in the chai), is located in the heart of the Bas-Armagnac region in the Gers département of South-West France. Fine Armagnacs have long been made here, using recipes and techniques handed down from generation to generation. The vineyard has been recognized by "Excellence Gers" and vintages 1986, 1988 and 1990 have all been awarded Gold medals at the Concours Agricole in Paris.
The 17th Century farmhouse, which has a magnificent chai (storage room, pictured) within which a new tasting room has been built, is surrounded by the vineyards planted half and half with Ugni Blanc and Bacco (no Colombard!), most of which is sold to the Cave Coopérative in Nogaro of which Benoit is a board member.
The chai plays an important role in the development of a spirit. A dry chai (with a cement floor, low roof or a more modern construction with less insulation) means reduced quantities through evaporation. A humid chai, such as that at the Château de Salles, will lose quantity at a slower rate but alcohol at a faster rate. For an Armagnac that will be released only after 20 years, humid conditions are preferable as this yields a softer, rounder spirit.
See also: Chateau de Salles
You must be aged 18 or over to purchase wine.
© The Big Red Wine Company, Barton Coach House, The Street, Barton Mills, Suffolk IP28 6AA, UK. Tel +44 (0) 1638 510803

Site design by GOL