Antoine Lienhardt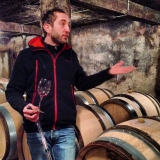 If you are a Burgophile who simply wants excellent Pinot but are unconcerned with labels, Antione Lienhardt's wines will be just what you are looking for since, as most of the range comes from the humble Côte de Nuits, these are wines that punch well above their weight without breaking the bank.

As always in Burgundy (and elsewhere for that matter), it is the producer's name that is paramount and, until now, I hadn't heard of Antoine Lienhardt. Neither, for that matter had Burgundy expert Bill Nanson when I asked him if he had any experience of these wines. This is not altogether surprising as Antoine only took over the vineyards of his grandfather, Maurice Guyot, starting with the 2011 vintage. Prior to that, the vineyards had been in long-term lease since M. Guyot's retirement in 1992.

Wine lovers, and especially lovers of Burgundy who are familiar with our range, will be more familiar with the wines of Antoine's partner, Juliette Joblot whose father, Jean-Marc is often credited for single-handedly putting the Givry appellation on the map (and for that matter the whole Côte Chalonnaise). More...






Antoine claims, "I learned most of what I know from Juliette" but this is, perhaps, overly modest: he had previously worked for four years at Domaine Amiot-Servelle in Chambolle-Musigny, with shorter stints in Chablis and in South Africa. But, like the Joblots, he produces a range in a humble appellation but in the manner of the Grands Crus.

Antoine is adamant that Comblanchien, where most of the vineyards are situated (just south of the Nuits St Georges border) should be a candidate for elevation should there ever be a re-classification. Like other top Cru vineyards in the Cote de Nuits, his lieu-dits – "Les Essards", "Les Plantes Aux Bois" and "Aux Vignottes" – have a mere 30-40cm of topsoil before passing directly into the limestone below. These sites were planted in the late 1960s by Antoine's grandfather, so the vines are now well-established. Pruning is severe with a goal of about 40hl/ha though in his first two vintages it was closer to 27hl/ha! Lutte Raisonée is practised, which is to say the vineyards are essentially organic unless conditions require more severe intervention. Otherwise, the clay and limestone soils are worked and no herbicides are used. Heavy green harvesting to limit yields and encourage good concentration.

At harvest, Grand Cru-level care and attention is evident. Great care and attention is paid to harvest physiologically ripe fruit which maintains energy and vibrancy that carries through into the final wine. During the fermentation, macerations are fairly gentle with careful, considered extraction, lasting for about 15 days. The wines then go into barrel for 12 months, and are bottled to capture the purity and exuberance of the fruit.

All cuvées of Côte de Nuits Villages drink well beyond their humble appellations. The "Plantes aux Bois" tends to be a bit more red fruited and floral, while the "Essards" is a bit darker with mineral undertones. For both wines, there is a drive and energy that commands your attention immediately.

2013 saw the return of a third vineyard from a leasing agreement: "Aux Vignottes". The wine here is a bright deep ruby with a nose offering nice fruit flavours, red and black liquorice and pepper. The palate is velvety, and has fleshy tannins with remarkable length.

Antoine recommends decanting the wines in their youth but is confidant that they will evolve for at least 20 years, perhaps more.

You must be aged 18 or over to purchase wine.
© The Big Red Wine Company, Barton Coach House, The Street, Barton Mills, Suffolk IP28 6AA, UK. Tel +44 (0) 1638 510803

Site design by GOL