French Regional Wines: South-West France
"Three elements have combined over the last decade to make the Southwest one of the New France's most startlingly improved wine regions: great grape varieties, forgotten terroirs of outstanding quality and the burning desire to prove a point." (Andrew Jefford, The New France, Mitchell Beazley)
Chateau du CEDRE
Cahors
Chateau HAUT-MONPLAISIR
Cahors

Chateau de SALLES
Armagnac
This quiet, remote part of France is still largely undisturbed by tourists and untroubled by modern life even though the Autoroute from Tours is largely toll-free. Other roads take you through the many cite étape villages, pretty stop-off points providing a welcome break to any tourist.
Many observers complain that the region does not have a single identity; rather it is several distinct regions with different geographic, historic and cultural characteristics and different grape varieties. That may be so but I would argue that, in that case, this is part of the region's identity and, if it should be divided, this can be achieved neatly between those appellations that rely on the Bordeaux varieties and those that do not. Click here to see a map of the region.
Indeed, coming from Bordeaux' St-Emilion and Cotes de Castillon there is no obvious reason to the casual observer why the vineyards of Bergerac are excluded from the Bordeaux vineyards. The grape varieties are the same as is the range of wines produced. The reasons are historical (Bordeaux was Catholic whilst Bergerac was Protestant) and political (Bordeaux is in the Gironde département; Bergerac in the Dordogne), that is all! Other regions are merely extensions of this theme: Duras, Buzet and, to a lesser extent (because it uses both Bordeaux and South-Western varieties), the Côtes du Marmandais.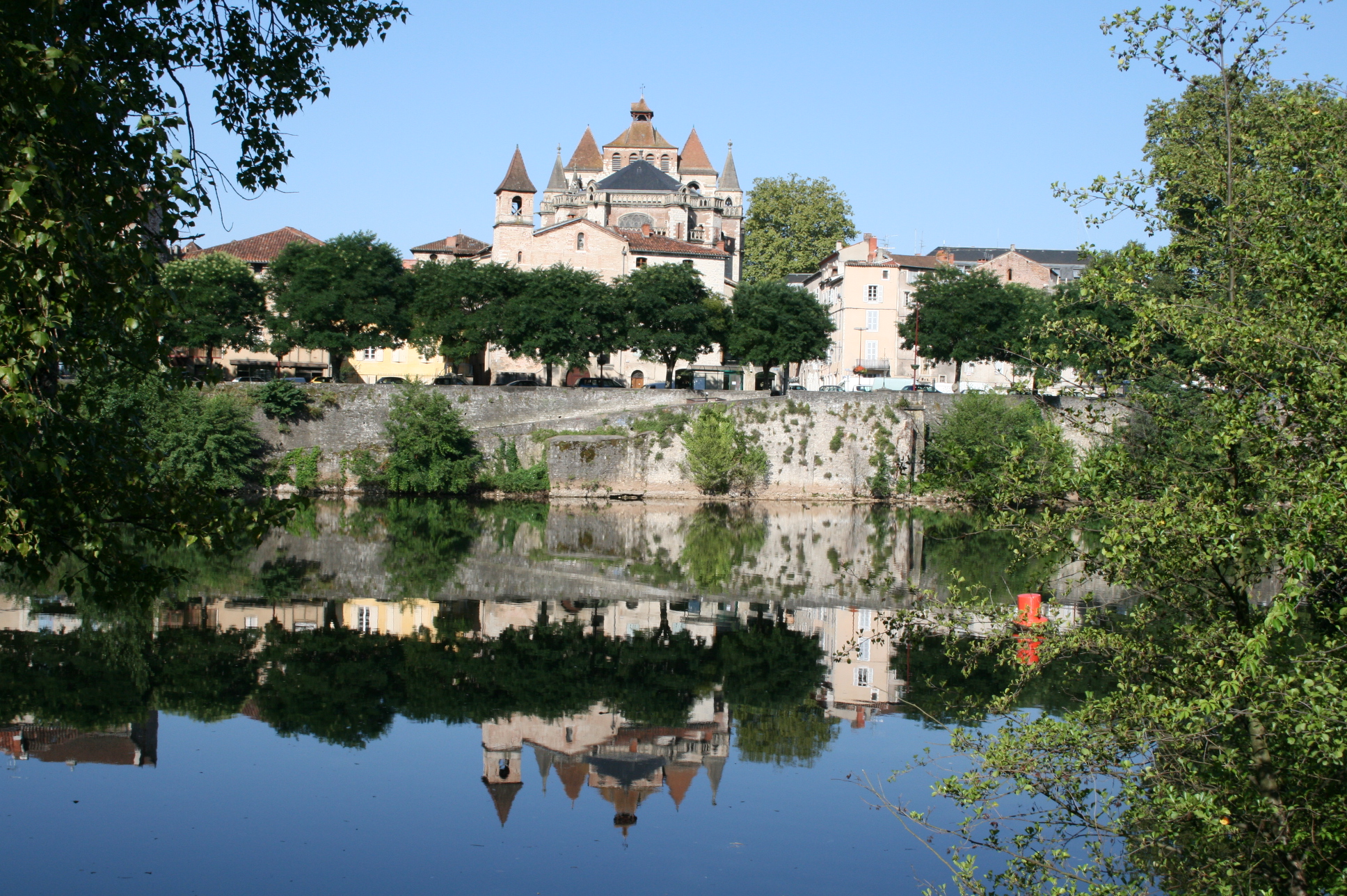 Further east is Cahors, a curious appellation, dominated by one of Bordeaux' lesser varieties (Malbec, traditionally known here as Auxerrois) producing two distinct styles of wines: easy-going quaffing wines or great power-house wines. All are red; many are complemented by Merlot or Tannat although Malbec must comprise at least 70% of any blend. Fans can probably thank the Argentines for the vast improvement over the last decade or so but the wines here are very different to their New World counterparts, as you might expect. Whereas the wines from Argentina are sweet and fruity, their French counterparts tend to been more structured, demanding of food and much more long-lived. Château du Cédre is one of the appellation's leading wineries; winemaker Pascal Verhaeghe also oversees production at nearby Château Haut-Monplaisir. Both produce dark wines from 100% Malbec which need time; not quite the "black wines" of the past but big and brooding nonetheless. Château Lamartine in the west of the appellation blends Tannat with excellent results for its superb "Cuvée Particulière" but its top wine, "Expression" is pure old-vine Malbec.
South of these appellations, things change with every sub-region having distinctive traditions and grape varieties, many not found elsewhere in France, let alone the rest of the world.
Fronton lies between Cahors and Toulouse and produces peppery reds from Négrette combined with the Cabernets, Syrah and, for the lighter wines, Gamay. This latter variety seems appropriate as I think of the wines as Beaujolais on steroids!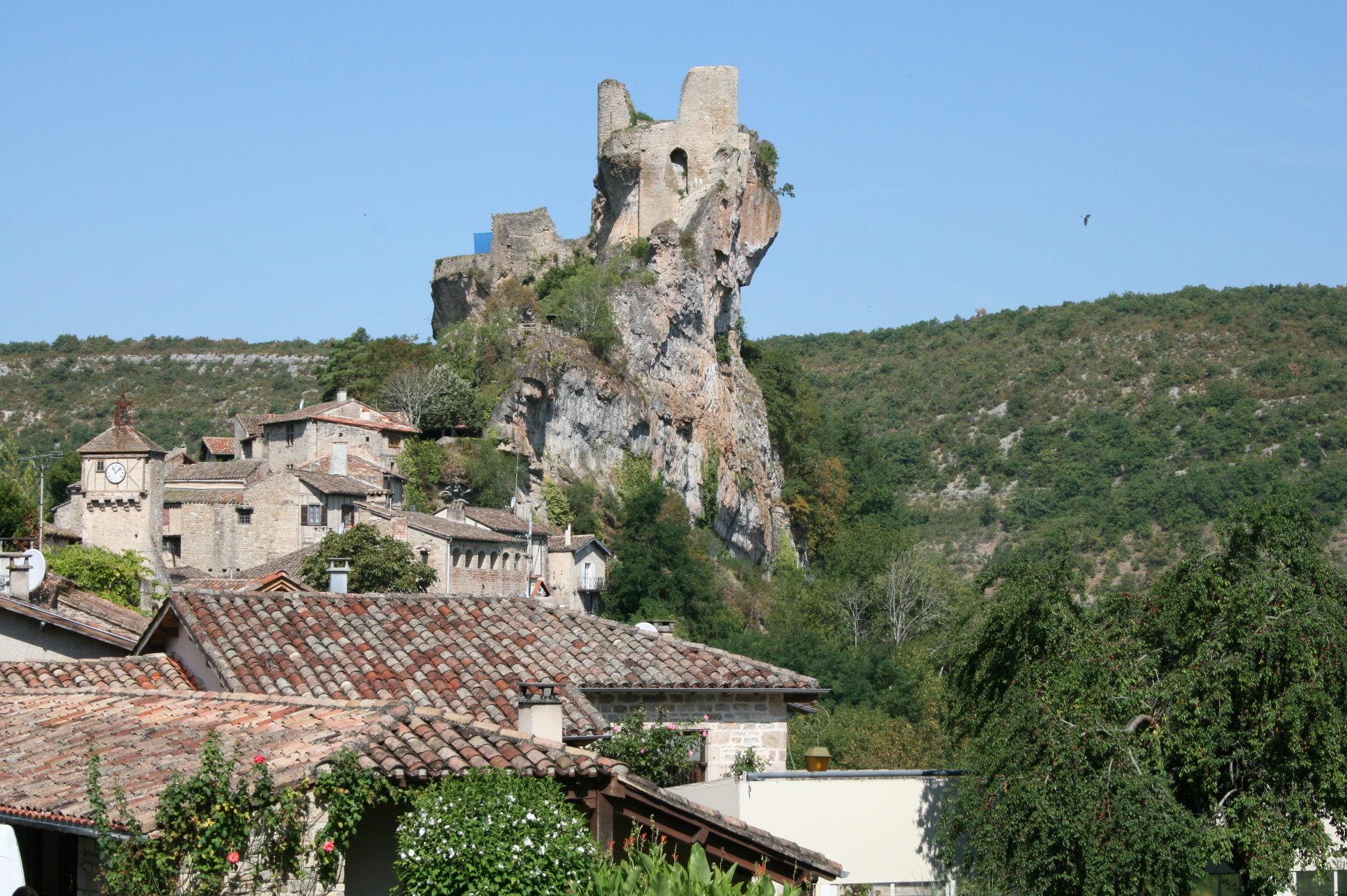 Further east, on the way to the town of Albi is Gaillac, the largest appellation of the south-west. The area includes several of France's "100 most beautiful villages" (many of the others are in the Southern Rhône/Provence) but what about the wines? Just about every type of wine is made here: sparkling wines made using the Champagne method or the méthode rurale (where the sparkle is created by the termination of the alcoholic fermentation); also Perlé wines which have a slight sparkle left over from the malolactic fermentation. Red, white and rosé wines are made at various quality and price levels, and, perhaps best of all, sweet white wines based on the local Loin de l'Oeil variety. At the fête des vins in August 2009, I even came across a wine which was Gaillac's answer to sherry although I was not greatly impressed.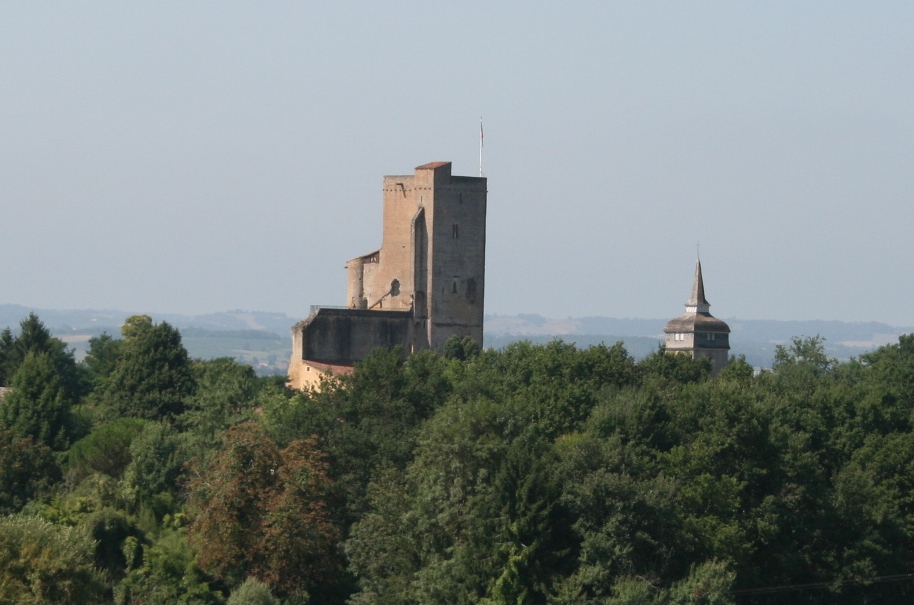 The Gers département is Armagnac country (the remains of the Tour d'Armagnac are pictured, left). In recent years as the popularity of spirits has declined, producers have been making white wines from Ugni Blanc and Colombard with increasing success (particularly the Colombard) in the Côtes de Gascogne vin de pays. Reds are being produced using Cabernet and Merlot, many of which are recent plantings. The wines are generally nothing special but can be pleasant enough holiday drinking.
Further over towards the Altantic coast are the more obscure appellations. The Cotes de St Mont is a VDQS producing Tannat-based wines along the lines of Madiran. St Mont is dominated by the Producteurs Plaimont, a well-organised co-operative operating throughout the region and producing a wide range of wines from the various local appellations. Inevitably, quality varies massively but there are some very good wines to be obtained from any of the many outlets scattered around.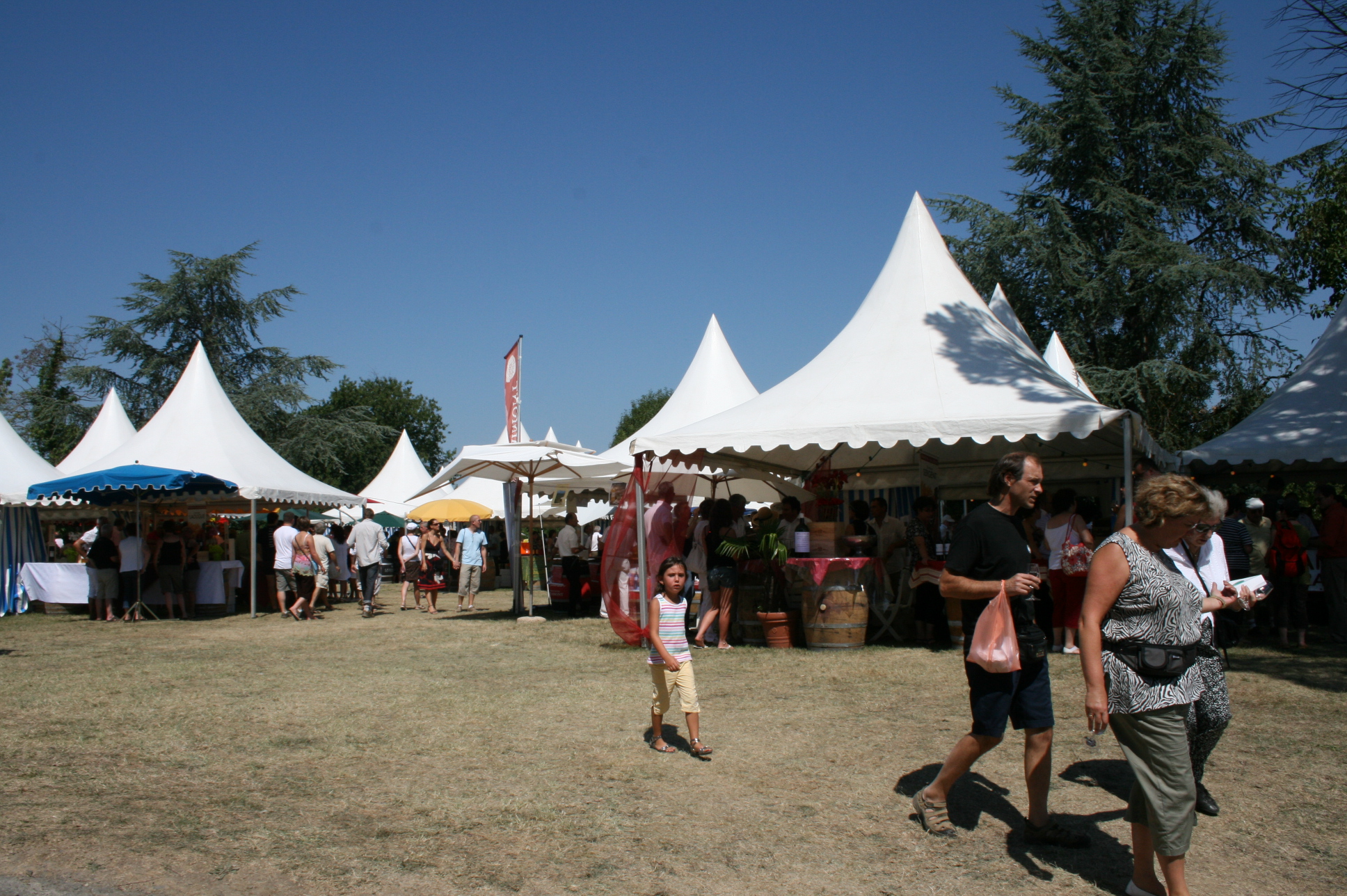 Madiran is home of "Gascony's great red wine" (Hugh Johnson and Jancis Robinson, World Atlas of Wine, Mitchell Beazley). The wines are based on the unforgiving Tannat which has to be tamed somehow. Different approaches have been adopted: including extensive racking (transferring the wine from barrel to barrel) or Patrick Ducournau's method of micro-oxygenation, a technique now used widely throughout the south-west. Either way, the best wines are superb: Andrew Jefford is not alone in suggesting they rival the (far more expensive) crus classés of Bordeaux (The New France, Mitchell Beazley) and anyone interested in the health benefits of wine should read Dr Roger Corder's The Wine Diet before tucking into a confit de canard with a couple of glasses of Madiran.
Once a year, the sleepy village of Madiran welcomes visitors in their thousands to it its fête des vins, one of the best wine fairs I have ever attended. Read more about this on our blog.
Jurançon is a white wine region in the far south-west of France in Basque country. Actually there are two appellations: wines are dry (Jurançon Sec) or moelleux - sweet - (Jurançon), made from Petit and Gros Manseng and, sometimes, Courbu. The most interesting of these varieties is Petit Manseng which accounts for around 30% of plantings and, certainly, the best sweet wines are produced entirely of this variety and the better dry wines are this that include a significant proportion of it. Vines have to be trained high to avoid damage from the spring frosts. "Jurançon is one of France's most distinctive white wines" (Hugh Johnson and Jancis Robinson, World Atlas of Wine, Mitchel Beazley). It's only a shame that more consumers haven't discovered this - yet.
The above is necessarily a sketch of the region and there are several other appellations of merit (and some best left to the locals). The above, together with the selection of wines available through BRW, indicate what I find fascinating about the region. Note: there are plenty of cheaper wines available from the region as a whole but what's the point when you can get a fruitier vin de pays from the Languedoc, for example. What the south-west does best is superb, mid-priced varietally charged wines that sing of terroir and individuality. I only wish I had discovered the region much sooner!
Below is a run-down of eight of the more interesting varieties that are not often found outside the region:
Duras
A very old local grape variety, dating from Roman times. The name has nothing to do with the nearby wine region of the same name but comes from Duracina, a grape variety mentioned by Columelle and Caton and introduced by colonisers to the Mediterranean region and beyond. The first written records mentioning it date from the 15th century. Above all others, this grape variety is yield-sensitive. It is particularly well adapted to the Gaillac region. Neither too early nor too late, the wines made from this grape are quite intense in colour, with a reasonably low level of tannins, quite a high alcohol level and are sometimes a little acidic when young, but very round and supple. A peppery aroma is typical of this grape.
Fer Servadou/Braucol/Pinenc/Mansois
This grape from the South West is thought to have originated in Spanish Basque Country. It more or less followed the way of the St Jacques de Compostelle pilgrims (on the way back). It belongs to the big family of Carmenets, which includes Cabernets. Fer comes from the Latin words ferus, meaning wild, and servadou meaning that it keeps well. The grapes do indeed resist mould quite well, and the rather tannic wines they produce tend to age well. Why this grape is called Braucol in the Gaillac area remains a mystery. It would appear that it has been in Gaillac for several centuries but never really predominated. Today, however, its one of the most important grape varieties in red Gaillac. Wines made using Braucol are usually quite intense in colour and quite tannic; depending on the age of the wine, the aromas range from capsicum to blackcurrant, not dissimilar to its close relative, Cabernet Sauvignon. It is a late variety that must be left to ripen as long as possible in order to avoid vegetal characters in the wines it produces.
As can be seen above, the variety has a number of aliases: Pinenc in Madiran/St Mont, Braucol in Gaillac and Mansois in Marcillac are but some.
Malbec
In Cahors this variety was traditionally known as Auxerrois but it is now more commonly referred to as Malbec (it has countless other synonyms, best known of which is Côt but, thanks to the success of its Argentinian incarnation, the French are referring to it as Malbec these days). It is a low-yielding variety, susceptible to coulure, low in acid, thick-skinned and deep-coloured. It must account for at least 70% of any Cahors wine but, in practise, most are mono-varietals or have just 10-20% Merlot or a dash of Tannat. Blackberry and damson are the most obvious fruit aromas from the variety. Wines are generally more fruit-laden than Bordeaux with good tannic structures in the very best to enable long ageing although the long-lived "black wines" are no more.
Négrette
A versatile variety, Négrette came with the Knights Templar from Cyprus and settled in Fronton where it has made its home. Generally, these wines are low in tannin and acidity making them ideal for drinking young (they are the mainstay in the bars of Toulouse) although there are some good, longer-lived wines coming from Fronton too, most of them blended with Syrah and Cabernet Sauvignon to give body and structure.
Tannat
Along with Malbec, the great grape of the south-west, in this case, Madiran. As the name suggests, the variety is naturally very tannic. Late-ripening, the wines have intense perfumes of black raspberry and cassis with a natural sweetness balanced by the tannins and acidity. Few are broachable before they are at least five years old although, thanks to Patrick Ducournau's technique of micro-oxygenation, it is possible to produce wines for early consumption (his Domaine Mouréou is a superb example of this). It is also used a little in Cahors where it adds a black fruit character to the already tannic wines (for example, Lamartine's "Particulière)
Loin de l'Oeil (or Len de l'El)
This grape variety gets it name from its appearance. The bunches are situated near the front of the branch, and have a long peduncle. As such, they are far from the eye (the bud) of both the branch and the bunch. A more fanciful version says that the bunches are far from the eye of the harvester, and thus some of them get left behind! Very little is known about the history of this grape. It seems to have been present in the Gaillac region for a very long time. It was probably used in blends of sweet white wines which were very popular in England, Flanders and Holland in the 17th and 18th centuries. In the 19th century, it made up 30% of the blends of Gaillac white wines, in combination with the Mauzac variety.
This grape variety produces big bunches which tend to over-produce if not clipped ; this is one of the reasons why as recently as 20 years ago, it was not particularly appreciated and was only used for lesser quality dry white wines.
Gros Manseng
From the western Pyrenees, the berries are resistant to grey rot making this popular with growers. Found particularly in Jurancon, Pacherenc du Vic-Bilh, St Mont and Cotes de Gascogne, it makes fragrant, fruity, crisp dry whites.
Petit Manseng
Gros Manseng's cousin, Petit Manseng (as the name suggests) has smaller berries which are therefore thicker skinned (which inhibits botrytis). It can produce high sugar levels without losing its acidity, making it ideal for the late-harvested sweet wines of the region. Often grapes are semi-dried on the vine and left unharvested until November for maximum concentration and complexity. Like its relative, it is widely found in the appellations of the far south-west where it produces some of the world's most distinctive and fine sweet white wines.
You must be aged 18 or over to purchase wine.
© The Big Red Wine Company, Barton Coach House, The Street, Barton Mills, Suffolk IP28 6AA, UK. Tel +44 (0) 1638 510803

Site design by GOL