Cantina Rizzi, Treiso (Piedmont)
Brother and sister Enrico, an oenology graduate from Turin University, and Jole Dellapiana are now running their family's estate just outside Treiso, just along the road from Enrico Nada and Grasso Fratelli. Their father, Ernesto, established the estate in 1974 after he made a decision to quit his paper-making business to immerse himself in the land of the Langhe. There are now 90 acres, making it one of the largest wine estates in the whole of the Barbaresco region. More...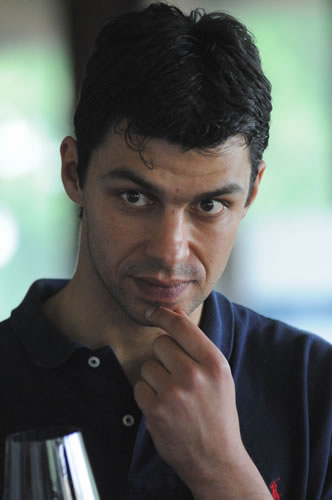 The family owns three large farms around Treiso as well as another The bulk of the production is from the Rizzi and Boito locali which surround the family home in Treiso. Boito grapes are made into an almost Barolo-like Riserva but, at my tasting of the wines, it was the 2011 Normale wines which persuaded me I had to buy these wines. There are three wines in this category, of which Nervo and Pajore impressed most, in particular the latter. Nervo is from sandier soils and produces more elegant, finer wines than the other locali whilst Pajore, near to Barbaresco itself, is regarded as one of the very best vineyard sites in all of Barbaresco. The 2011 from Rizzi certainly attests to this.
Additionally, the family have Moscato vineyards and make, as well as a good Moscato d'Asti, a stunning late harvest wine called Frimaio.
I have already been asked why I would want to import yet another Barbaresco estate. Quite simply, I am convinced that Enrico Dellapiana is making wines which will develop into some of the finest expressions of Nebbiolo in the Barbaresco region. Pajore offers another string to the bow, providing us with a cru from one of the top two or three locali in all of Barbaresco but, more important, these long-lived wines provide a set of perfect companions to Enrico Nada's (also superb) wines. In my view, you really cannot have too much of a good thing!
See also: Piedmont Cantina Rizzi

You must be aged 18 or over to purchase wine.
© The Big Red Wine Company, Barton Coach House, The Street, Barton Mills, Suffolk IP28 6AA, UK. Tel +44 (0) 1638 510803

Site design by GOL