Domaine Joblot, Givry
"This is Givry's best estate" (Clive Coates MW, The Wines of Burgundy, University of California Press)
"Justifiably recognised as one of the great producers in Burgundy" (Robert Parker, The Wine Buyer's Guide)
"A leader in Givry" (Jasper Morris MW, Inside Burgundy, BBR Press)
No-one who knows Burgundy would argue with the assertion that Domaine Joblot is the greatest estate in southern Burgundy. Only the home estate of DRC's Aubert de Villaine's comes anywhere close to rivalling the wines of Jean-Marc and Vincent - and now Jean-Marc's daughter Juliette - Joblot. It is not going too far to say that the wines made in this 14ha estate are better than many grand cru wines from the Cote d'Or. More...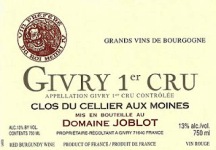 The best part of the Givry commune is an elongated amphitheatre-like band about three miles in length and superbly sheltered from westerly winds. It is here, with rocky, limestone rich soils, that the best Premier Cru vineyards such as Clos de Cellier Aux Moines and Servoisine can be found.
The estate is in one of the back streets in the centre of the small village of Givry although I was surprised to find that it opened up on to the main drag. For Givry this is quite a big operation, producing around 6,000 cases each year.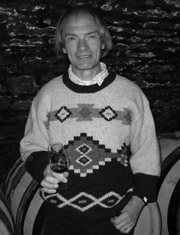 Both red and white wines are made here: there are 4ha of Givry 'Preface' (formerly Pied de Chaume) with the remaining vines in Premier Cru sites including Cellier aux Moines, Bois Chevaux, Grand Marole, Servoisine (all red) and Vaux (white only) There is a cuvee of old-vine Chardonnay called 'Mademoiselle' and, since 2016 a fabulous blend of the four premier cru reds called 'L'Empreintes'.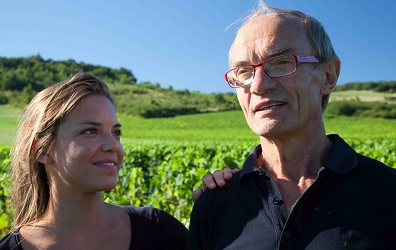 Juliette has learned her craft at the feet of one of Burgundy's most revered winemakers. Jean-Marc would say he let the wines look after themselves - non-interventionism is definitely the approach here. Reds are destalked and elevage is mostly carried out at the family home in Givry in new wood barrels from Francois Freres (the family has a longstanding relationship with this famous firm of coopers). Ageing is for around 16 months but the wines do not take on too much character from the wood; rather they gain wonderful textures from their elevage.
All the wines have excellent levels of concentration with impressive depth and acidity which is considered at least as important here as sugar levels. The Joblots' demanding approach to both viticulture and vinification clearly pay off. This is a fabulous set of wines from an estate we have been following for years and we are immensely proud to import these wines.
We believe the quality and prices of these Burgundies are without equal anywhere in the UK.
You must be aged 18 or over to purchase wine.
© The Big Red Wine Company, Barton Coach House, The Street, Barton Mills, Suffolk IP28 6AA, UK. Tel +44 (0) 1638 510803

Site design by GOL