Domaine Cottebrune, Faugeres
One of the pioneers of the Northern Rhone, Pierre Gaillard produces a wide range of wines of exceptionally high quality. More...

£15.00
(Bottle)
£54.00
(6 btls in bond)
2017 Domaine Cottebrune Faugeres 'Transhumance'
Syrah-driven, quite Northern Rhone.
more details...

£19.00
(Bottle)
£72.00
(6 btls in bond)
2018 Domaine Cottebrune Faugeres 'Parole de Berger'
Rich, complex, difficult to put down Syrah.
more details...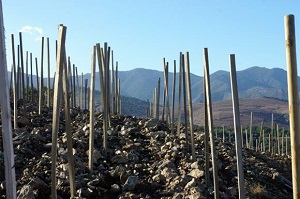 Created in 2007 by Pierre Gaillard, best known for his eponymous vineyards in St Joseph and Cote Rotie. In Faugeres, the steep hillsides are at high altitude with the Cevennes in the background and a panorama extending from the Pyrenees through to Montpellier.
The white wines are especially good here although the flagship red, Transhumance, has a whiff of Côte Rôtie about it (not altogether unsurprising given who makes it) and is rather good, especially given it is well under half the price. Transhumance refers to the moving livestock between lowlands in winter and highlands in summer, a common practise in this part of France.
See also: Domaine Cottebrune (website) Pierre Gaillard (wines available) Domaine Madeloc (wines available)
You must be aged 18 or over to purchase wine.
© The Big Red Wine Company, Barton Coach House, The Street, Barton Mills, Suffolk IP28 6AA, UK. Tel +44 (0) 1638 510803

Site design by GOL