Filippo Broccardo, Monforte d'Alba (Piemonte)
Filippo, Laura and Federica Broccardo have followed the family traditions: respect for the land, passion for a job that never ends, techniques to cultivate vineyards naturally, natural vinification and so on. They have been rewarded for their efforts with a range of high quality wines which are garnering praise whenever anyone tastes them. More...
---
£25.00 (Bottle)
£111.00 (6 btls in bond)

---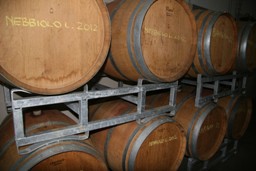 We have been searching for a good Freisa for some time and are happy to have found the Broccardo wine, grown in Bricco San Pietro, alongside other local varietals. It is a lovely example of this little-known grape that deserves more recognition. The Barolo is rather good too!

See also: Piedmont