Angelo Grasso, Calosso (Piedmont)
In April 2018, I entered a restaurant in the quiet village of Calosso, about half an hour from Alba. The wine list including the usual, expected page of Barbaresco, Nebbiolo d'Alba, Dolcetto and Barbera and, new to me, an entire page dedicated to a local variety, Gamba di Pernice. More...

£25.00
(Bottle)
2016 Angelo Grasso Vino Rosso (Calosso) 'Calos'
Almost unheard of wine with definitive Piedmontese notes.
more details...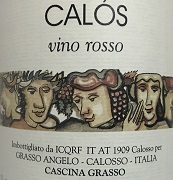 Gamba di Pernice means partridge legs; the variety is so-called because of the shape of the clusters and their red stalks. According to legend, hunters who returned without spoils would hang clusters of Gamba di Pernice on their doors as "trophy". It is one of the region's oldest varieties but, outside Calosso (where it is thought to have originated) and a few plantings in the Monferrato hills, it is rarely seen (although it is occasionaly found under synonyms such as "Occhio di Pernice" or Partridge eye). There is a DOC for the wines from Calosso which must contain at least 90% Gamba di Pernice but, ask anyone (at least anyone impartial) who makes the best wine here and they will tell you it is Angelo Grasso whose wine is not bottled under the DOC. Why? It's quite simple: his entire production is a mere 610 bottles each year. Yes, 610 bottles. He does make other wines too, of course, so he is able to scratch some sort of living but his flagship wine is made in tiny quantities.
I visited the restaurant again a year later and ordered the wine again to see if I still enjoyed it (I had taken a bottle away with me in 2018 too which was probably even better than the one I had at the restaurant thanks to a few months more bottle age). It was the 2015, I later discovered, and it was youthful but full of promise and opened up magnificently throughout the meal. The wine comes with an explanatory note which, luckily, includes the winemaker's contact details so, whilst waiting for the starters to arrive, I did the "teenage dad" thing and sent a quick email to Angelo to ask if I could visit later in the week to buy a few bottles for myself. Ten minutes later, the waiter asked me if I was enjoying the wine and was clearly pleased when I said I did so he could introduce me to the only other guests in the restaurant (it was early): Signore and Signora Grasso! In broken Italian, helped by the waiter, I arranged to collect some wine and left very pleased with myself.
A little later, I thought, why not see if Angelo will let me import some wine into the UK. Ordinarily this would be no mean feat but with a production of just a couple of barrels, I thought it unlikely. I was wrong and am now the proud importer of a small number of cases of 'Calos'.
'Calos' is bottled as 'Vino Rosso' and, as such, bears no vintage. However, Angelo tells me it is the 2016 and it is a fabulous vintage. The couple of bottles I have opened so far (well, I have to product test on your behalf) have started well but improved immeasurably over the course of the evening suggesting this is a wine that will last well.
Gamba di Pernice is a tricky grape to get right. If the dark skins are punctured during de-stemming, the wine can be spoilt. The wines tend to have the tell-tale sourness of Italian wines that demands food (I first had this with a fantastic wild boar pasta sauce which I have been trying to replicate ever since). There is an array of stoned fruits interspersed with spice and elegant tannins but, above all, this is a fairly powerful wine which needs a big meal to show at its best, realistically (probably) a strongly flavoured meat such as wild boar, lamb etc (although my wine-loving vegetarian friends will no doubt aim to prove me wrong). Above all, this is a lovely wine with a great back-story which is what all Italian winemakers aspire to offer.
See also: Piedmont
You must be aged 18 or over to purchase wine.
© The Big Red Wine Company, Barton Coach House, The Street, Barton Mills, Suffolk IP28 6AA, UK. Tel +44 (0) 1638 510803

Site design by GOL