Jacques Girardin, Santenay
The Girardin family can trace its roots in the southern part of the Cote de Beaune back to the early 1800s but only after World War II did Jacques' father Jean really start to develop the vineyards with several important sites in Santenay which, on his retirement, were divided between his four children. One of them was Vincent, who built an excellent reputation based on some very high quality wines (we used to buy these for our own enjoyment); another was his brother Jacques who, over the years, has extended his vineyard holdings northwards in Savigny-les-Beaune, Pommard and Chassagne-Montrachet so that today the total vineyard area controlled by this branch of the family is 17 hectares with production in the region of 60,000 bottles. More...

£24.90
(Bottle)
£105.00
(6 btls in bond)
2013 Jacques Girardin Santenay 1er Cru Maladiere
Blacker fruit character than most Santenay.
more details...

£24.90
(Bottle)
£105.00
(6 btls in bond)
2013 Jacques Girardin Santenay 1er Cru Beauregard
Smooth and unctuous red Santenay.
more details...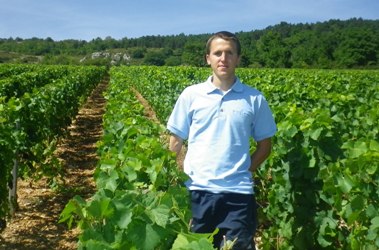 2010 saw the arrival of Jacques and Valerie's son Justin (pictured) as part of the team. Justin had studied viticulture and oenology in Beaune and Bordeaux before joining his parents and then spent the first two vintages working alongside his father in the fields and in the winery. From 2012, he has been running the estate on his own although Jacques and Valerie still get roped in for the fun stuff - such as winter pruning. They are pragmatic in their approach to organic viticulture: Burgundian summers can be cool and, at times, damp so treatments are needed to prevent rot; on the other hand, they are acutely aware that a wine is only as good as the vineyard in which it is grown so a more traditional approach is applied whenever possible. Following a manual harvest and sorting of grapes, fermentation is held at a low temperature to extract fine aromatics before being allowed to rise so that the alcoholic fermentation can take place. Malolactic fermentation takes place a couple of weeks later in oak barrels (one-quarter of which are new) where they remain for 12-18 months at which point they are bottled.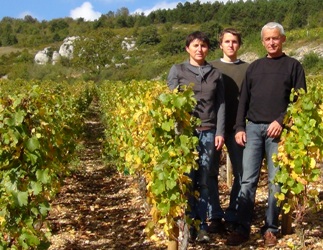 The wines are elegant and authentic Burgundies, the reds smooth and unctuous and the Santenay Blanc proving that rarities can be hidden gems. We have selected the three Premier Cru wines from Santenay which we felt to be a considerable step up from the Village 'Vieilles Vignes', with quite distinct, vineyard specific characters. They all spend 12 months in barriques, 30% new so it really is the terroir that makes the difference. On first taste, 'Maladiere' is more tightly wound but with aeration (or, better still, more time in the bottle) it is, perhaps, the finest of the three whereas 'Beauregard' is fleshier and 'Clos Rouseau' the most instantly accessible. Further north, the Savigny-les-Beaune Premier Cru 'Les Peuillets' offers surprising depth for this village whilst the Chassagne Rouge (another Premier Cru, from 'Morgeot') is outstanding.
You must be aged 18 or over to purchase wine.
© The Big Red Wine Company, Barton Coach House, The Street, Barton Mills, Suffolk IP28 6AA, UK. Tel +44 (0) 1638 510803

Site design by GOL