Poggio al Gello, Montecucco (Tuscany)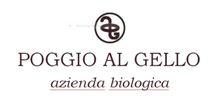 I was tipped off about the wines of Giorgio Chiarini and Alda Nelli in the early summer of 2014 by a friend who said the wines are just like Brunello di Montalcino but, because they come from nearby Montecucco, cost a fraction of the price. Understandably, I wanted to learn more so contacted them and got chatting. As well as Sangiovese Grosso (the clone producing the highest quality Sangiovese, as in Brunello), they are keen to revive native Tuscan varieties such as Pugnitello (and they make a cracking example of this).
More...
£18.90
(Bottle)
£150.00
(12 btls in bond)
2010 Poggio al Gello Montecucco 'Rosso del Gello'
Brunello-like, powerful Sangiovese.
more details...
The farm is in Tuscany, in the hills of Maremma in the Montecucco DOC, 30km south of Siena. The estate comprises 16ha, four of which are vineyards, 70% planted to Sangiovese (annual production is around 20,000 bottles). As well as wines, they make some rather good olive oils and they are certified organic ICEA for all their production since 2001 (they took over the estate in 1998).
All the wines are mono-varietals and made using indiginous yeasts and traditional methods. There is a wonderful effortlessness about the wines: the Pugnitello is a revelation (one wonders why this variety has been allowed to become almost extinct) and the two Sangiovese wines - Rosso di Gello and the Riserva - are simply stunning. By January 2015, the basic Rosso had got into its stride and, without knocking you for six, is simply the sort of wine you (or I, at least) can't put down. Being organic makes this less of a problem.
See also: Poggio al Gello
You must be aged 18 or over to purchase wine.
© The Big Red Wine Company, Barton Coach House, The Street, Barton Mills, Suffolk IP28 6AA, UK. Tel +44 (0) 1638 510803

Site design by GOL